Welcome

to

Guitar Lessons

with

Brad Barnes!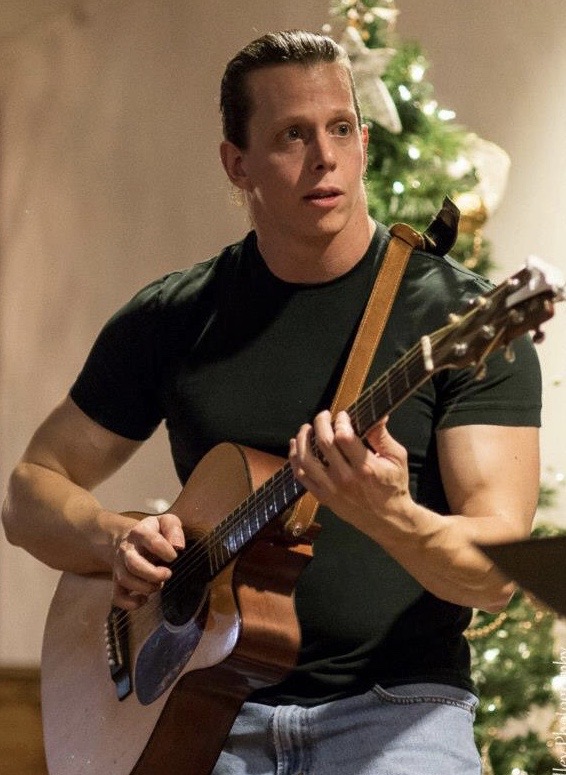 Welcome Aboard!
Hi! My name is Brad Barnes. I've been a guitar player in the Plano, Texas area for years and a guitar teacher for years.
I teach a lot of styles of guitar ranging from rock and metal to folk and acoustic to blues to jazz to basic country.
You Need to Match with the RIGHT Teacher
I'll always be honest with you and do my best to steer you in the right direction, so if you're looking for advanced classical guitar for instance, I'll do my best to recommend a fantastic teacher for you but that's just not my specialty. The same for goes for advanced country lead guitar and advanced jazz guitar as well.
For the huge number of you that want to learn rock, folk, metal, blues, jazz, music theory, music composition, improvisation, guitar technique, shred guitar, and many other styles and specializations...
You're probably in the right place!
Take a moment and SUBSCRIBE to my email list so you can get all of my latest FREE supplements to guitar lessons!
Now let's go check out LESSONS...
Guitar Lessons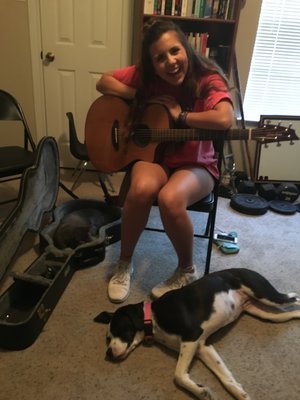 Online Places for Guitars and Accessories:
Types of Lessons
ALL guitar lessons are in-studio or via Skype/Zoom.
So if you can't come to me the only other option is to do online lessons.
In Person One on One Lessons in Plano, Texas
In Person Small Group Lessons (3 student max)
Online One on One Lessons
Online Group Lessons (2 student max)
(PLANO, TEXAS) In Person One on One Lessons
In person and one on one is definitely the preferred learning situation. You will have your lesson free of the distractions of technology and things that may be going on around you.
If you are a beginner or you are working on unfamiliar techniques, I am able to reach over and help manuever your hands to help you adjust your technique.
This is obviously impossible online, and it's usefulness is hard to overstate.
The biggest advantage, though, is that we can play together in person. Online there is always a slight delay from when you speak to when I hear and vice versa.
This means that we can't play together at the same time which is extremely important, especially for beginners.
(PLANO, TEXAS) In Person Group Lessons
In person group lessons have the same advantages and disadvantages as individual in person lessons, but it can be more difficult to progress as quickly since we often have to move at the pace of the slowest student.
On the upside, if there are multiple dedicated students in a group, you all can learn to jam together which is fantastic!
Online One on One Lessons
These are by far the most convenient lessons to have.You don't have to fight traffic to get here on time. You don't even have to be in the same city or country!
You do, however, need really reliable and reasonably fast internet access.
The downside is that we can't play along with each other, which is extremely valuable in the learning experience.
Also, I can't reach over and adjust your hands as your learning new techniques, although I have a LOT of experience teaching most of the things I'm asked to teach so that we can often find other solutions to help the learning experience for you.
Online Group Lessons
All the same from above applies, but bear in mind that it's even harder to keep everyone together when we're online so I limit group lessons online to 2 people to protect the quality of your learning experience.
Specifics About Your Guitar Goals
I want to craft a unique plan to help you achieve your goals.
We'll want to discuss your goals, background, current experience (if any), etc. with one another before we move forward.
Click on CONTACT and send me a message and we can get that conversation started!
I look forward to hearing from you!
About Me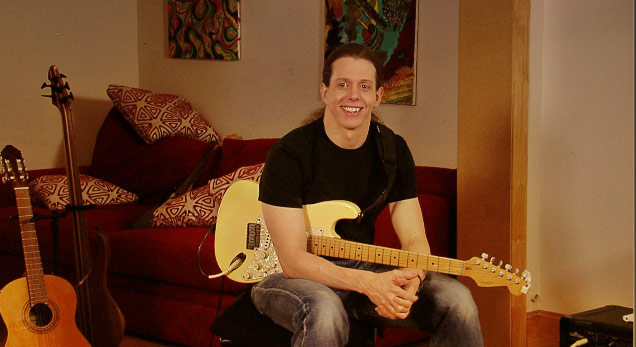 Hi, guitar folks! Welcome to the world of Brad Barnes, passionate guitar instructor.
From his earliest days as a beginning guitarist years ago, Brad knew he wanted to be a teacher. There is just nothing like listening to someone's guitar dreams and helping them get there step by step. Some people get all excited about the idea of playing guitar but get sidelined by the sometimes confusing and overwhelming process of how to actually develop the skill that they are so excited about.
Not Brad!
Brad is one of those rare people that LOVES breaking down the process to bite-sized pieces and walking students through each step until can truly perform each new skill. He can't make you practice, but if you're like so many students of his over the last years, you'll WANT TO PRACTICE!
Brad got started with guitar at the age of 15 after a bit of experience with choir and then playing bass in school orchestra. After just a year he was studying guitar at a local community college and after two years he won his first scholarship. He quickly became known for his passionate and virtuosic approach to guitar.
He transferred to the prestigious University of North Texas as a music composition major at the advice of one of his music theory instructors after he was the only student at his college to pass the UNT Theory Proficiency Exam a semester early.
Brad went on to start his Masters in Music Education but did not complete this as he was very busy with a full student load in his private studio.
In 1997, Brad began teaching full time out of his home in Dallas, Texas. After years of accumulating all kinds of tools and approaches for learning guitar, he started combining these teaching ideas together into a very successful approach that was taking students from literally no experience to strumming through songs while tapping their foot and keeping the form of the song so that people could sing along with them without getting lost. Many of them went on to perform publicly impressing their peers and parents.
From his earliest days as a music student, whether it's with guitar or music theory or anything else, Brad never considered anything learned unless he could successfully teach what he was learning to someone else.
Brad has developed a reputation as an amazing performer. He has played rock, jazz, funk, blues and many other styles from the Caribbean to Los Angeles. This performing experience allows him to help his students incorporate good performance habits into their practice which allows them to perform as well if they should feel so inclined, though there's never pressure to do so.
From absolute beginners all the way to experienced, gigging performers, Brad can help you achieve your guitar goals.
CONTACT Brad to find out if he may be a good fit for you!
Contact Brad!
Testimonials
A few words from Brad's former students...
"I DON'T BELIEVE I WAS EVER SUPPOSED TO PLAY GUITAR. My fingers are short and stubby, and they don't move particularly fast. However, Brad Barnes was able to teach me the true value of hard work when it comes to playing this wonderful instrument. Brad showed me what it takes to OVERCOME THE MENTAL BLOCK in improving your playing. His sheer dedication to his own scale work during his warm-ups should have been convincing enough, but I believe I was a little more stubborn than the rest. I needed a little more persuasion to believe that I wanted to put in the necessary work to legitimately play the guitar.
Brad BUILT UP MY CONFIDENCE AND MY SKILL SET each week for five years. I wasn't interested in learning other people's songs; I had always wanted my own songs to write, record, and perform. He made it so easy for me to learn the CAGED system as well as modes. After each lesson I would go home and write a new song based on what I had just learned. With Brad's patience and amazing teaching ability, I AM NOW A COMPLETE GUITARIST and feel I can effectively communicate my ideas both verbally and with my playing. I AM NOW A BELIEVER.
I attribute all the success I've had in music to Brad. In high school, my band won a battle of the bands competition put on by NAMM and our prize was to play a show at Musik Messe in Frankfurt, Germany. Since high school, I've been playing in a band called Gum and Ketchup. We recently finished our first album Friends of Friends, and Brad's lessons are densely packed within each song. When I listen to my songs it takes me right back to the lessons where I had honed these techniques. I am forever grateful, and I encourage anyone who reads this to BELIEVE IN BRAD."
— DAVID GALSTYAN
Bassist for Gum and Ketchup
"Oh Brad Barnes ! About a year ago I decided to take some guitar lessons to clean up my playing. I asked around for a few suggestions on who I should go to and they all said, "Go to Brad Barnes". After my first lesson with him it was clear to me why HE'S THE ONLY NAME I HEARD ANYONE SAY. He understands guitar playing from the inside out, the under, the over and the in between. When it comes to the mental aspect of playing, practicing and performing, he is also a master. A good teacher not only needs to have the knowledge and understanding of what they are teaching, but also the ability to deliver that knowledge to their student. BRAD IS A NATURAL TEACHER. When I play and perform these days I am constantly using things I learned from him. Whether it's to relax my hand, remember to breathe or to add accents to the chords, I'M HEARING HIS WORDS AS I PLAY. He is a badass in every way, talented and warm-hearted, and I RECOMMEND LEARNING GUITAR FROM HIM ABOVE ANYONE ELSE!"
— KATIE CARROLL
DALLAS SINGER-SONGWRITER. LEARN MORE ABOUT KATIE.
"I was looking for guitar lessons in the spring of 2000, and Brad's website was the one that came up first in the Google search for "Dallas guitar lessons." Most would immediately assume upon seeing his site that Brad was a pro, and that he knew what he was talking about – and they'd be right. I took private lessons with Brad for years and since doing so, the guitar has become an integral part of my life and career as a professional musician. Brad was able to break down guitar concepts in a way immediately applicable to me, and instantly useful in any musical situation. Even though I had a classical background playing brass instruments and piano, the guitar quickly became the central instrument in my career. I've since won 2 Emmy awards, scored films, played in countless sessions, done hundreds of shows a year, and am currently a full time record producer/songwriter – all built on the foundation of being able to pick up a guitar, and play. Brad's innovative methods directly contributed to the successes I have had in my career as a musician, which is why I always recommend him to anyone who needs lessons or wants to improve their skills at guitar. I never known anyone more passionate about teaching the guitar, period. Brad is the absolute best!!"
- JOSH GOODE
EMMY-WINNING ARTIST. VISIT JOSHGOODE.COM
"Meeting Brad Barnes and taking guitar lessons from him was ONE OF THE BEST THINGS I'VE EVER DONE. Not only did I befriend a fantastic person, but I learned a lot about the guitar, as well. I've wanted to play acoustic guitar since I was little. I was looking for a good instructor and was referred by a mutual friend and former student of Brad's. I was definitely a beginner, but Brad never made me feel that way. He was very encouraging and that helped to keep me motivated. I ALWAYS LOOKED FORWARD TO MY LESSONS. He's an amazing guitarist and seeing him perform live is always a phenomenal show. He's an excellent instructor for any level of guitar playing, and I highly recommend him. Brad is one of the best people I know, and his love of music is very apparent on both a performance and instructional level. IT JUST DOESN'T GET ANY BETTER!!"
— JAMA PLOTTS
"When I started guitar lessons, my main goal was to learn music theory and to improve my playing because I HAD BEEN STUCK IN A RUT FOR YEARS. At my first lesson, I had no clue how to tell what the key signature was, how to build chords, what a "real" major scale was (not a major pentatonic scale), arpeggios, and I can go on and on. We started slow and just constantly built on what I had learned the prior week. Now, I can look at a key signature and immediately know what key it's in. I can play all of my major scales, minor scales, and know all the different modes, Ionian, Dorian, Phrygian, etc. I can also play different arpeggios, major, minor, minor 7, and so on, which I can use to play over chords as well as use during solos, especially in jazz. But one of the things I am most grateful about learning, is how to build chords. This is not only good to know for playing the guitar, but it can also use it with any instrument. I found myself sitting at a piano this last week trying to play a song and could immediately play it because I knew the chords and what notes made up those chords. IT WAS A GREAT FEELING TO BE ABLE TO TAKE WHAT I LEARNED ON ONE INSTRUMENT AND APPLY IT TO ANOTHER.
I would recommend Brad Barnes as a music teacher. He's funny, goofy, and RELATES WHAT YOU'RE LEARNING TO SOMETHING YOU CAN IDENTIFY WITH to make it easier to learn and remember. But most of all, the guy is smart. He really knows his music theory, and everything dealing with it, backwards, forwards, and every direction in-between."
— JEREMY WENDEL